Puerto Rico isn't just famous for its breathtaking beaches and delicious cuisine, but also for its warm-hearted singles looking for love. When considering online dating in Puerto Rico, it's essential to choose the right platform. After all, the right dating site can be the bridge between you and your perfect Puerto Rican match.
🇵🇷 Chat With Single Women From Puerto Rico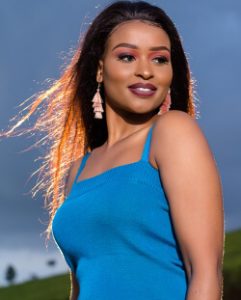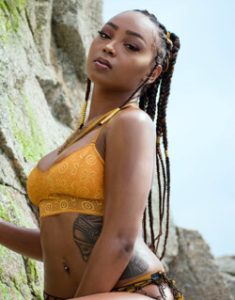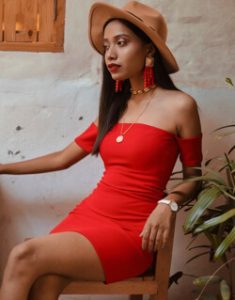 CaribbeanCupid
≈ 17k girls online
4.7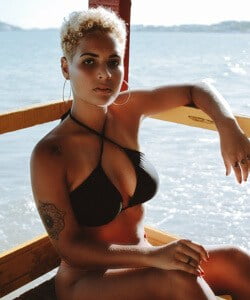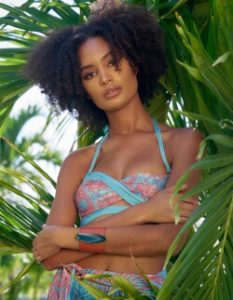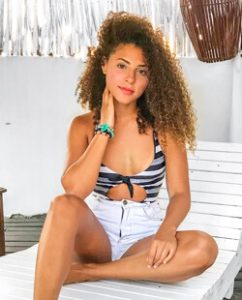 CaribbeanMatches
≈ 11k girls online
4.5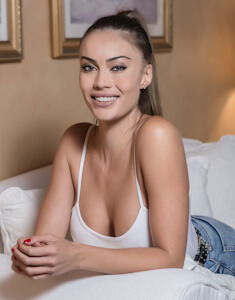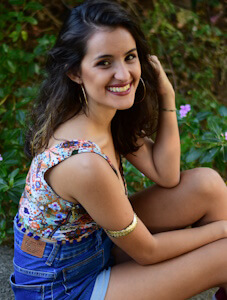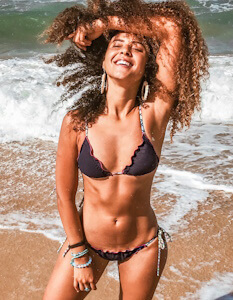 LatamDate
≈ 9k girls online
4.4
With so many options out there, making a choice can be overwhelming. But don't worry! By the end of this post, you'll know exactly which site is the perfect fit for you to meet Puerto Rican singles.
Funny story – I spent an unforgettable month in San Juan this year. And while the mofongo was mouth-watering, what truly left a mark was the genuine connection I made through a local dating site. It was an experience that showcased the importance of selecting the right platform.
So, ready to dive in? Keep reading to discover the best Puerto Rican dating sites and who knows, your soulmate might just be a click away!
1. CaribbeanCupid – The Top Site For Puerto Rican Dating
CaribbeanCupid is a great option for connecting with someone from sunny Puerto Rico. Especially if you're aiming to meet women between 21-35 years old. A quick search will reveal over a thousand profiles, mostly centered around San Juan. But, hey, you'll also find folks from smaller cities and towns in Puerto Rico.
CaribbeanCupid isn't just for those in Puerto Rico. It's a hub for singles from the Bahamas, Barbados, Cuba, Haiti, Trinidad and Tobago, Saint Lucia, and many more Caribbean spots. So, if you have a love for the whole region, this site's for you.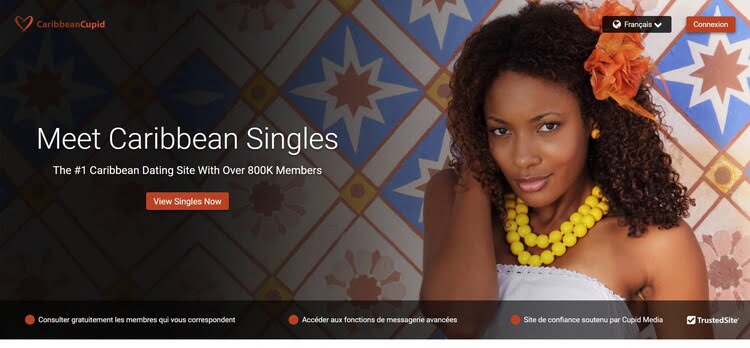 How to Get Started
Jumping into CaribbeanCupid is a breeze. You can sync your Facebook or just type in your basic details: name, gender, and email. Then, pick a strong password.
Here's a fun part: Tell the site a bit about you and your dream date. If you're in a hurry, it's cool to skip this for now. Just remember, the site might nudge you later to complete it.
Finding Your Perfect Match
With CaribbeanCupid, you get to pick how you view profiles. Whether it's by photos, basic details, or in-depth info. You can also sort by new members, last online, and more.
Looking for someone specific? No worries. You can search by age, location, education, or even keywords. And if you fancy someone in your locality, there's a search for that too.
Chatting and Making Connections
Now, this is where it gets interesting. You can let someone know you're into them with a quick click on the heart icon. Or, add them to your favorites. When you do this, CaribbeanCupid will give them a heads up.
One small hiccup: If you're using the free version, your messages to other free users will appear blurred. They'll need to upgrade to see what you wrote. To have a real conversation, like texting or video chats, you'll need to connect with Gold or Platinum members.
Cool Features to Check Out
Don't want to be swamped with messages? CaribbeanCupid lets you set filters. This way, you only get messages from people who fit your criteria. This could be based on age, location, habits, or even if they have kids.
Fun fact: This is a lifesaver, especially for ladies, since their inboxes can get pretty packed. And, if you ever get a spammy message, you'll be thankful for this filter.
What's in Store for Members
Standard – Set up your profile, add photos, check out matches, and express interest.
Gold – Everything from Standard plus: chat with everyone, no ads, and a hidden profile option.
Platinum – Everything from Gold plus: get noticed more, highlight your profile, get more profile space, message translation, and fancy matching features.
My Two Cents on CaribbeanCupid
CaribbeanCupid is a vibrant place to find love in the Caribbean region. Whether you're set on Puerto Rico or open to the entire Caribbean, it offers a fun, safe space to connect. Just remember, like any dating site, to make the most of it, consider upgrading.
2. CaribbeanMatches – Connect With Caribbean Singles
CaribbeanMatches.com is a cool dating spot mostly for folks from the Caribbean and Puerto Rico. It's a pretty simple site to use, aiming to help people connect with possible dates. Right from the start, they make sure your email stays private and give you control over your personal info.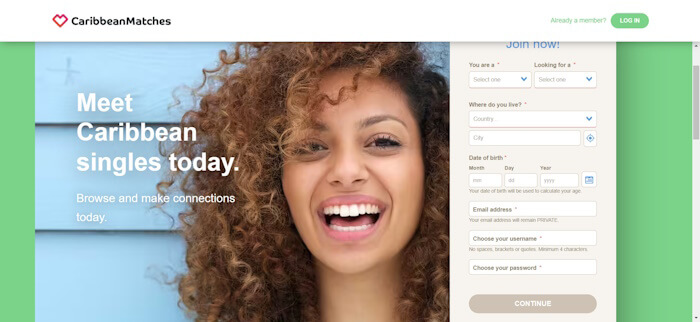 The Good Stuff
It's for everyone! Whether you're straight, gay, or anywhere in between, you're welcome.
They manually check profile photos – so you know you're getting the real deal.
Only members can see user profiles, keeping things a tad more private.
Feel safe with options to block any unwanted attention and report any not-so-nice behavior.
Find dates nearby using their local search.
Been around for 15 years – they've got some know-how!
The Not-So-Good Stuff
They don't have specific apps for phones.
You don't have to verify your email when signing up, which could let some sneaky fake profiles slip through.
Some people might think their premium prices are a bit steep.
Joining In Is Easy!
When you sign up, you'll pop in the basics: gender, age, where you are, and your email. They promise to keep your email safe, and there's a little test to make sure you're a real person.
Finding a Date
You can search based on simple stuff like how old someone is or if they're online. Or, if you're picky, there are more detailed search options. You can even search just for people near you!
Chatting It Up
You can send messages or chat requests. If someone's bugging you, just hit "block," and you won't hear from them again.
Extra Cool Features
Priority Listing: For some extra cash, make your profile pop up first.
Advanced Searching: Get super specific with your date hunt.
Make Your Profile Shine: Pay a bit to stand out when people search.
What's It Going to Cost?
1 Month: $39.99
3 Months: $89.97
6 Months: $149.94
They don't have trial memberships or coin systems, though.
Final Thoughts on CaribbeanMatches
CaribbeanMatches.com knows its stuff when it comes to connecting the Caribbean community. It's simple to use, has safety tools, and works on all your devices. But, not having a phone app and maybe letting some fake profiles in is a bit of a downer.
3. LatamDate – A Great Site To Get A Puerto Rican Girlfriend
LatamDate is a fantastic spot if you're looking to connect with Puerto Rican singles. In my opinion, it's one of the top dating sites in Puerto Rico. There are so many lovely Puerto Rican women eager to chat. The good news is, they also have a user-friendly app for when you're on the move. Trust me, there's no shortage of stunning women on this site!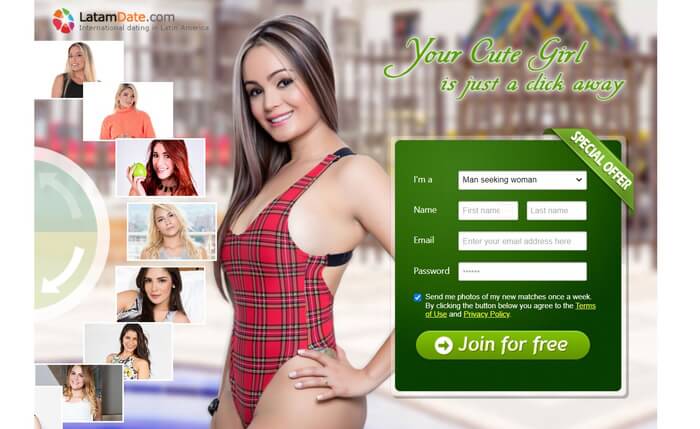 Getting Started with LatamDate
Joining LatamDate is super simple. Just share your name, birthdate, gender, and an email address. Answer a few quick questions about yourself, and you're good to go in under 5 minutes. Sounds easy, doesn't it?
Finding Your Ideal Partner
Ready to meet that special someone on LatamDate? Let the site know your preferences. Whether you're interested in a specific age group or someone with certain hobbies, you have the choice!
Exciting Chat Options
Instant messaging
Emailing
Voice chat
Video chat (It's live!)
LatamDate's Awesome Features
For Premium Members:
Ready-to-send love letters
Option to send gifts and flowers
Exchange contact details with matches
Membership Perks
Regular Membership: Join without any cost, view profiles, send greetings, give likes, list your top choices, and seek assistance when required.
Premium Membership: Enjoy unlimited chats, send gifts, share contact details, and even arrange real-life meet-ups!
Final Thoughts on LatamDate
Are you in search of genuine love and hoping to get an incredible Puerto Rican girlfriend? Then, LatamDate might just be your answer. It's user-friendly and fun to navigate!
4. eharmony – Best Site For Serious Relationships
Let's talk about eharmony. It's not just for everybody, but it's got a good number of members from places like Puerto Rico. So, if you're looking to connect with someone who shares your Hispanic background, this might be a spot to consider.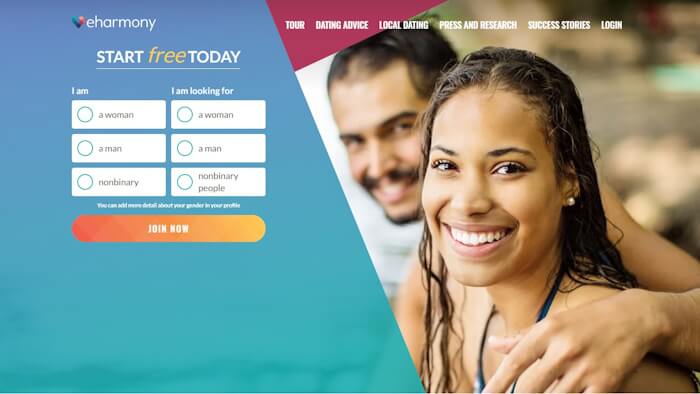 Joining eharmony
Jumping into eharmony? Well, they take matching seriously. Instead of just telling them about yourself, they've got a 150-question test. It's like a quiz about what you like and who you are. It's not about quick dates but finding someone for a real, lasting connection.
I won't lie – when I tried it, the quiz felt super long. Like, 30 minutes of questions! But if you're serious about finding true love, it's worth the time.
Getting Your Matches
Once you're set up, eharmony will start sending you matches. It's based on how you answered the questions. So, it might take a bit to find the perfect match. But remember, they're trying to find you someone special for the long run. No need to search for matches yourself – eharmony does it for you.
Chatting with Matches
Your chat options depend on your membership. You can chat with your matches, and even some people outside your matches. If you upgrade, you can get more ways to chat, like safe phone calls.
Cool Stuff About eharmony
What makes eharmony different? They're on a mission to find you someone for keeps. So, no fake profiles or endless searching. They send you matches, and you choose from them.
Membership Options
So, they've got three plans:
Basic Plan: The simple one. See photos, chat, see who looked at your profile, and check when your matches are online.
Total Connect Plan: Everything from Basic, plus a detailed personality profile, RelyID (it's like an ID check), and safe phone calls using your phone.
Premier Plan: All the stuff from the first two, plus some cool extras. If you're not happy after a year, they give you another year free. You can also pause your account if you need a break. Plus, you get access to eharmony's expert team, and you can even do background checks on some matches.
My Two Cents on eharmony
I think it's worth spending a bit on a good eharmony plan. Just like working hard in your job, putting effort into your love life can have great results. So, be patient, and a match will come!
This dating site is all about helping people meet Latin women, who are often seen as stunning, warm-hearted, and charming. If you've got a soft spot for Latin American women and dream of a lasting relationship with them, this could be your go-to platform.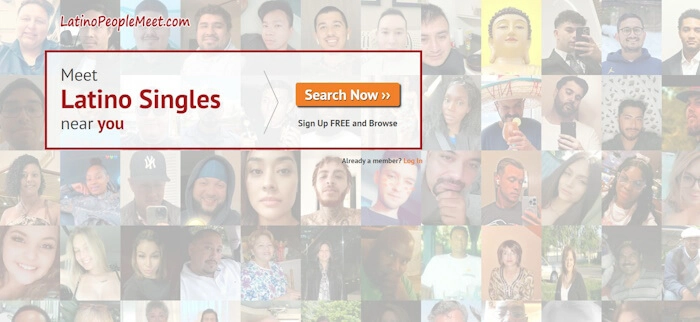 Pros
Get started in no time! The registration is fast and fuss-free.
Navigating the site? It's a breeze.
Packed with active members, so you won't feel alone.
Change your mind about your profile details? No worries, you can tweak it anytime.
Cons
Pricing seems a bit on the high side.
Wish there were safer payment options in their app.
No mobile app? That's a bummer.
Not sure about profile quality. There's no user verification.
Joining LatinoPeopleMeet.com
Jumping in is simple. It won't take more than 10 minutes. Just share some basic stuff like your gender, email, age, and where you're from.
Finding Your Match
Once you're in, you'll fill out six short sections about you. The more you share, the better your chances of meeting someone just right. Tell them about your looks, your story, your values, and any other fun facts.
Chatting and Connecting
There's more than one way to say "Hi!" Send a message, add someone to your favorites, give a little flirt, or simply like a profile. Plus, there's a nifty instant match feature to find compatible profiles faster.
Cool Stuff You Should Know
Got photos on Facebook? Use them to spruce up your profile.
Choose between free or paid memberships. Each has its own set of perks.
Cost of Being a Paid Member
Just for a month? That's $16.99.
Trying it for 3 months? It's $8.99 each month (Total: $26.97).
Going for 6 months? It's a deal at $6.49 per month (Total: $38.94).
Final Thoughts on LatinoPeopleMeet
LatinoPeopleMeet.com could be your ticket to meeting that special Latina for a lasting bond. If that sounds like your dream, it's worth giving this site a spin.
6. Tinder – Swipe, Match, Chat With Puerto Rican Singles
For sure you've heard about swiping left or right? That's thanks to Tinder! It's a cool app where you can find new friends or dates by looking at their photos and reading a little about them. If you like what you see, swipe right. If not, swipe left. If you both swipe right – guess what? It's a match!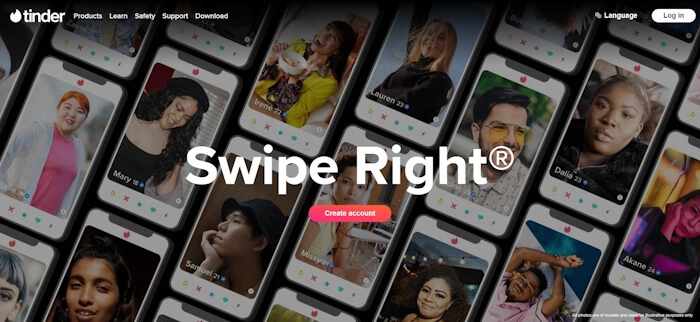 Neat Features
Swipe: Swipe right if you like someone, left if you don't. Match when you both like each other!
Super Like: Tell someone you REALLY like them before they decide on you.
Once you match, you can chat and see if you'd like to meet up in real life.
Awesome Stuff About Tinder:
Super easy to figure out.
A fun way to meet cool people.
Lots of free stuff to do on the app.
Swiping is kinda like a fun game!
Stuff to Watch Out For:
Can't always tell what someone's looking for.
Some cool features might cost you a bit.
Be careful! Swiping is super fun and you might get carried away.
Heads up: Just like in real life, some people might not be nice. If someone's bothering you, block and report them. Stay safe!
Getting Started on Tinder
Use your phone number or Facebook to sign up. And don't worry, if you use Facebook, Tinder keeps it a secret. They won't post anything or snoop around. It's just to make sure you're you. Plus, it helps if you ever have trouble with your account.
Finding Your Perfect Match
Once you've decided on your dating preferences, it's time to begin your search! Remember, while you can start swiping without any profile pictures or details, having them increases your chances of getting matches. So, take a moment to set up your profile and put your best foot forward. You wouldn't want to miss connecting with someone special.
Decide how far you're willing to search and the age range you're interested in. Switch on your GPS and let Tinder know your location. The app lets you choose a distance from as close as 1 mi (or 1 km outside the US) to up to 100 miles. If you're in a bustling city like San Juan, there will be plenty of local options. So, you might want to keep your search close. But, if you're in a quieter, rural area, expanding your search might be a good idea. I even wrote a great guide to help you meet women in Puerto Rico.
Chatting with Your Matches
Found a match? Great! You can start chatting immediately. Just remember, a match doesn't always mean they'll chat back. Some folks swipe right on many profiles and then pick whom to talk to.
Starting a conversation can be as simple as saying "hello." But, if you want to catch their attention, maybe ask about something in their profile or share a light-hearted GIF. When chatting, try to be engaging. Instead of short, one-word answers, share a little more. And always be curious – ask them questions too.
Thinking about meeting in person? It's up to you when you feel ready. But it might be a good idea to meet sooner rather than later. Sometimes, chatting can feel perfect, but meeting face-to-face is the real test of chemistry.
Cool Tinder Features You'll Love
Tinder isn't just about swiping left or right anymore. They've introduced some neat features to make your dating experience even better!
First off, there's the "Super Like." Imagine telling someone you fancy them before they even see your profile. Well, with this feature, you can! You receive one Super Like every day to use on someone special.
Want to control your privacy? The "Control Who Can See Your Profile" feature has your back. Choose if everyone sees your profile or only those you've swiped right on. Your call!
Then there's "Smart Photos." What's that, you ask? Tinder's smart tech checks out how people swipe on your photos. The ones getting the most right swipes move to the front. It's like having a personal stylist for your profile pics!
Alright, let's not forget the basics. There are handy tools like blocking people you don't vibe with and features to keep your profile secure. Feeling fancy and want more features? Check out the premium ones:
Boost: This one's gold! Jump ahead of the queue and shine at the top of user lists for half an hour. You'll be seen more and increase your chances of finding a match.
Swipe Rewind: Oops, swiped the wrong way? No worries! Rewind lets you go back and take another look. No more missed connections!
Passport: Traveling? Start swiping in your destination before you even pack your bags. It's like having a head start on making new friends. But don't stress, people will still see your real location.
Unlimited Right Swipes: Tinder usually limits you to 100 right swipes daily. But go unlimited, and you can swipe all day, every day. Perfect if you're in a bustling city and you love to swipe!
No ads: Yep, it means you won't see ads. Pure swiping bliss without any distractions.
Hide Distance: Keep the mystery alive by hiding how far away you are, especially handy when using the Passport feature.
Hide Age: Age is just a number, right? Go ahead, keep it a secret if you wish.
See Recently Active: Curious about who's been online recently? This feature lets you peek at your matches' activity.
See Who Likes You: Feel like a celeb! Check out all the folks who've liked you in a neat gallery.
Top Picks: Get a curated list of profiles handpicked by Tinder's algorithm daily. It's like having a dating concierge!
What You Get With Each Membership
Tinder Plus:
Swipe as much as you like with Unlimited Right Swipes
Made a mistake? Use Swipe Rewind!
Enjoy a clean experience with No Ads
Give a special nod to 5 people daily with Super Likes
Get noticed more once a month with a Boost
Match with people from different places with Passport
Tinder Gold:
You get everything in Tinder Plus
Peek at who's already liked you
Check out who's online with Recently Active
Enjoy the cream of the crop with Top Picks
What I Think About Tinder
Whether you're staying local or going global with Passport, there's always a surprise waiting. From discovering a soulmate in Puerto Rico, making a brand new buddy, or facing some challenges, there's always something happening.
7. Badoo – Your Last Option
Badoo is a big player in the online dating world, having started back in 2006. If you're in Puerto Rico and have some time to send out messages, Badoo might be worth a look. Just a heads up, the site does have a mix of genuine and not-so-real profiles. The popular folks on the site do get a lot of attention, so be prepared to stand out if you want your message to be seen.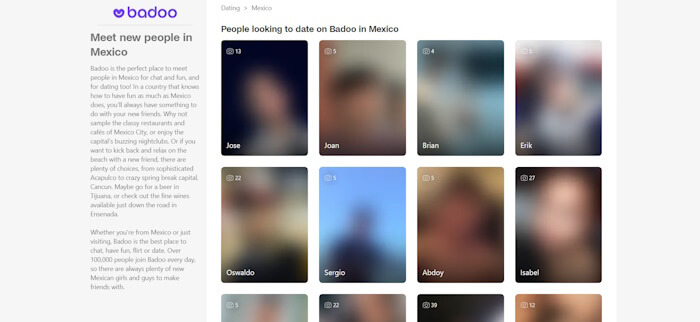 Getting Started
Joining is simple. You can punch in your basic details like your name, birthdate, gender, and where you are. Or, take a shortcut with your Facebook or email account. When you're in, Badoo asks why you're there: to make friends, chat, or look for dates.
Want to connect Badoo to Twitter or bring in your email buddies? That's an option. Once you're all set up, you can dive into the profiles.
Finding Someone Special
Badoo offers two cool ways to find matches:
Encounters: This is like a speedy dating game. You see one profile at a time, give them a thumbs up or pass, and move on. If both of you like each other, the site lets you know.
People Nearby: As the name suggests, this feature shows you profiles of folks around your area.
Chatting and Beyond
Want to chat or check out member photos? Just click on their profile. If you're curious about their personal details, make sure you've set up your own profile first. And to know where they are, just turn on the location feature on your device.
A quirky thing about Badoo: You can only see who's into you after inviting friends from your email. It would've been cooler if they allowed Facebook or Twitter invites instead.
Unique Touches
Badoo shines with its sleek design. It sometimes feels like a social media platform with options to add photos and videos. But at its core, Badoo is all about dating.
Profiles get ranked by likes. So, the more likes you get, the higher your profile ranks. Want to get noticed more? Badoo allows you to pay for that extra visibility.
Membership Tiers
Free: Join, set up your profile, browse, mark favorites, and chat.
Platinum: Be among the top in Encounters, get more visibility, and enjoy all the Super Power perks.
Super Powers: See who's into you, change past votes in Encounters, browse invisibly, and chat with top users.
Paid Extras: Boost your profile in searches, add stickers to chats, and send special "gifts."
Final Thoughts on Badoo
Badoo offers a neat dating platform with lots of features and a huge user base. Just be alert, as there might be some fake profiles lurking. Always be smart and safe when you're online dating.
Ready To Meet Puerto Rican Singles?
Dating in enchanting Puerto Rico is more than just stunning beaches and salsa. Let's do a quick run-down of what we covered in this article:
Learn the Language: A little Español can go a long way. It not only impresses, but it also shows you're truly invested in connecting on a deeper level.
Be a Gentleman: Being polite and respectful never goes out of style, especially in Puerto Rico. Show genuine care, and you're sure to leave a lasting impression.
Pick the Right Platform or App: With so many options, it's crucial to find the one that aligns with what you're looking for. A good platform can be your wingman (or wingwoman) in this adventure!
Puerto Rico is bursting with passion, and its singles are no exception. It's your time to shine and remember – the right moves and the right platform can make all the difference.
So, what are you waiting for? Dive into one of the top Puerto Rican dating sites, and let the sparks fly! Our top recommendation is CaribbeanCupid.com. ¡Buena suerte!