It's almost a cliché in today's world to use a dating site, but they still work. However, not all dating apps are equally good for meeting Latin singles. To find your perfect match, you need to find a dedicated Latin dating website.
We've put together a list of the best Latin dating sites and ranked them for you. We evaluated 8 Hispanic dating sites based on four factors:
The quality of profiles
Prices
Security
Customer support
So, if finding the perfect Latin lover has been hard for you, let's tilt the love meter in your favor!
Here are 11 Latin dating websites you should try to meet Latino and Latina singles:
Latin American Cupid – Best Latin Dating Site
ColombianCupid – Best Colombian Dating Site
BrazilCupid – Best Brazilian Dating Site
MexicanCupid – Best Mexican Dating Site
DominicanCupid – Best Dominican Dating Site
AmigosArdientes – Best Latin Dating Site for Hookups
Chispa – Best Latina Dating App
Amigos.com – Great Option For Dating Latino Men
LatinoPeopleMeet – Match Latino Hispanic Dating Webiste
AmoLatina – Premium Latina Dating App
Dating.Com – Best International Dating Site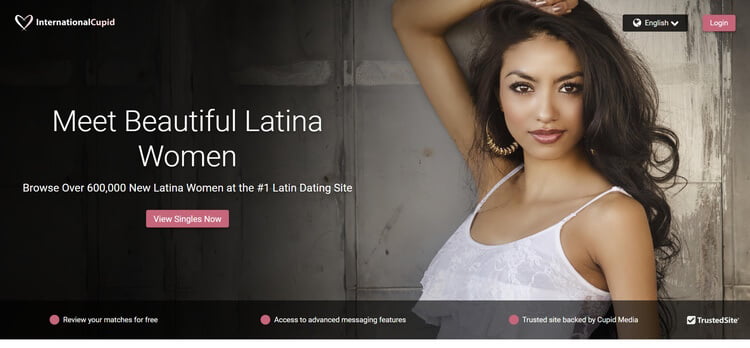 If you want options (and who doesn't), then LatinAmericanCupid is a great choice. Part of the Cupid network, the site boasts a huge selection of real profiles of members looking for love.
LatinAmericanCupid has been around for quite a while, making them a trustworthy source for finding love in Latin American countries. It is one of the best Latin and Hispanic dating websites, according to many users and the best alternative to Latino People Meet.
Quality of Profiles
As one of the original dating sites available, they know what users are looking for:
The member pool is massive, boasting one of the largest databases of singles on the internet today.
Plus, LatinAmericanCupid does a great job of making sure the profiles are real. Using live staff, they make sure to weed out potential scammers and bots quickly. If you find a fake profile, it is easy to report them and get them removed.
Features
Members can enjoy an ad-free online dating experience, access features such as instant messaging and live chat, and restrict access to their profile – hide the profile from other members, and browse anonymously.
Other nifty features include the opportunity to sign up via Facebook and using "Cupid Tags." The latter lets members add more specific personal data to increase the chances of finding perfect matches.
LatinAmericanCupid also has a mobile app that makes online dating more comfortable.
Prices
LatinAmericanCupid has three membership plans:
Free
Gold1 Month: $29.98
3 Months: $59.99
12 Months: $119.98
Platinum1 Month: $34.99
3 Months: $69.99
12 Months: $149.99
Free users can browse profiles and respond to members who message them first. Gold members get all the perks of a free profile with the ability to message other members, live chat with them, and use the platform ad-free.
Platinum members get all the perks of both the free and Gold membership options. Still, they can also go incognito, use the translation tool when communicating with members who speak a different language, and get access to enhanced matching (truly worth it).
Security and Support
As part of the Cupid Network, LatinAmericanCupid has one of the safest databases in the world. Your information is secure with them, and it's protected using industry-standard protocols to keep your profile safe from prying eyes (and data leaks).
Those who have trouble with the website have an extremely easy-to-use FAQ section that addresses most questions. If you still need help, you can contact their support team and get a response in less than eight hours.
Verdict
LatinAmericanCupid has been around for quite a while, connecting westerners with Latino singles. Again, they boast one of the largest dating pools with real profiles available today. Their enhanced matching algorithm on the Platinum Package makes the site a hard-to-beat option if you want to find love or get a Latina girlfirend.
2. ColombianCupid – Best Colombian Dating Site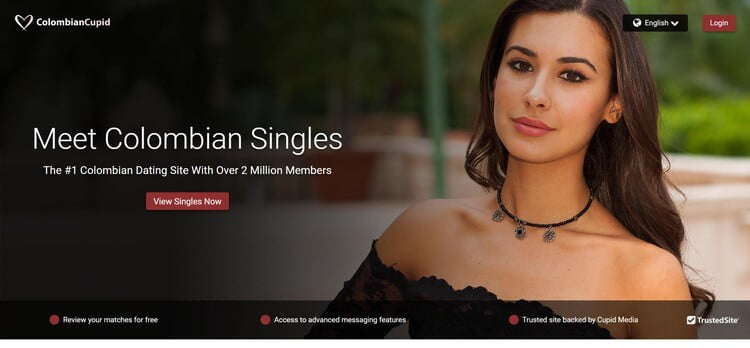 Colombian Cupid is a popular Latin dating site that caters to singles in Colombia. The Cupid Network makes up one of the largest, strongest, and safest platforms you can use to find love. ColumbianCupid is a simple, easy-to-use platform that helps you find love in the Colombian community.
Quality of Profiles
With around 2 million Latino men and women profiles to browse, you'll have plenty of members to choose from. But are the profiles real? From what we can tell, yes! And here's the great part … the profiles have plenty of room to share information! Even better, premium profiles get a double-up to give you even more information about them.
Features
As with other sites mentioned thus far, ColombianCupid offers both free and paid versions of the portal. The free version lets you get a small taste of what the site offers, such as creating a profile and performing a basic search to find potential matches. However, the paid version allows you to send and receive instant messages, enjoy video calls, browse anonymously, highlight profiles you like, and use translation services.
Price
ColombianCupid has three package plans to choose from:
Free
Gold1 Month: $29.98
3 Months: $59.99
12 Months: $119.98
Platinum1 Month: $34.99
3 Months: $69.88
12 Months: $149.99
Free users can browse the website, but you'll need a paid account if you want to reach out to your matches. Platinum and Gold plans allow you to contact any user while a Platinum plan gives you access to the double-up feature we mentioned earlier.
Security and Support
Again, you can rest easy when you use the Cupid Network. They know how to keep your information safe and clear from data breaches.
As for support, the FAQ is fairly extensive and answers almost every question in one or two searches. If you still need help, you'll need to create a help ticket and wait for a response. From our research, you should get an answer in less than twelve hours.
Verdict
If you want to narrow down your search results to the Colombian community, ColombianCupid is the right platform. As of this comparison, the platform has more than two million users ready and looking for love. It is one of the best Colombian dating sites, however, if you want to meet people outside of the Colombian community, you'll need to use a different platform.
3. BrazilCupid – Best Brazilian Dating Site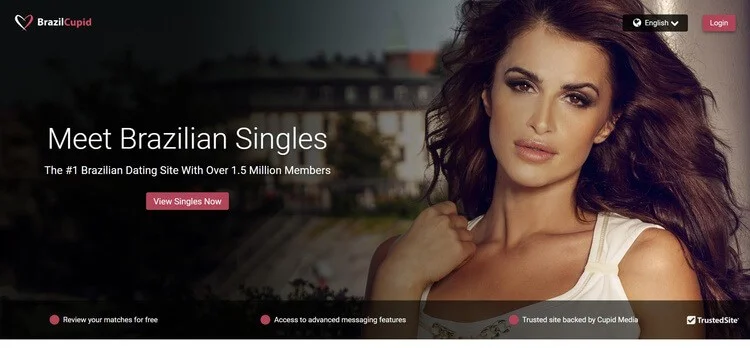 Almost all of the members on the BrazilCupid platform come from Brazil, the United States, and France. And while the overall user count is relatively small compared to other Latin dating sites on our list, the quality of the profiles makes up for it. It s the best dating site if you want to date single Brazilian women or other Hispanic women.
Quality of Profiles
Getting down to the nuts and bolts of the operation, BrazilCupid has an extremely trustworthy platform. All of the profiles are verified and checked for being suspicious or fake. If found to be fake, they are IMMEDIATELY removed. Knowing that it's easy to let your guard down and look for real people to connect with.
Features
The sign-up process is free for everyone, as well as the mobile application which is available through Google App Store. As with other sites, the standard version limits your access to most features but is a good way to get a feel of the portal. Most communication features, such as sending messages and video chat, become available once you purchase a membership.
BrazilCupid also features helpful safety features. For example, members can report any suspicious activity on the site straight to a security team.
Prices
You can use the website for free, but free features are limited. Free users can browse through the profiles, but they cannot communicate with any matches. To send messages to other users, you'll need to choose between a Gold or Platinum membership.
Using the paid plans, you'll have access to live chat, an ad-free experience, specialized search features, and even the use of the proprietary matching algorithm. Your profile also gets boosted to rank higher in the active profiles list.
Gold:
1 Month: $29.98
3 Months: $59.99
12 Months: $119.98
Platinum:
1 Month: $34.99
3 Months: $69.88
12 Months: $149.99
Security and Support
Built on the Cupid Network, your data is secure with BrazilCupid. You can hide your profile on this platform if you prefer anonymity, and removal of your profile is possible if you decide to leave the platform.
If you need help, they have a good FAQ section where you can find the most answers. If you have other questions, you can reach out to them using their email system. We find that most responses are in less than one business day.
Verdict
With around 100,000 active users, you're bound to find a match on BrazilCupid. Whether you want a date or looking for more, BrazilCupid helps refine your search quickly. It is definitely one of the best Brazil dating sites.
4. MexicanCupid – Best Mexican Dating Site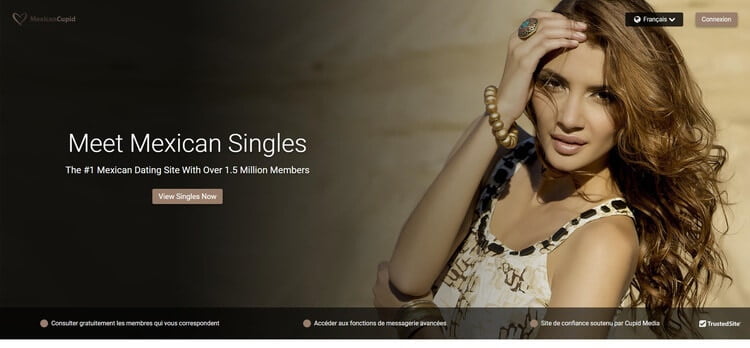 For those who want to connect with Mexican singles, MexicanCupid should be your first choice. This is a popular dating platform designed specifically for those looking for a Mexican partner. While the database is lower in quantity, the quality of the profiles easily makes up for it.
Quality of Profiles
Finding a match is super simple on this platform. Filter profiles based on your preferences and click "Search." From there, you can browse real Mexican singles who want to connect with westerners. And, from what we can tell, almost all of the profiles are legitimate.
Since this is a niche platform, most of your matches will be from Mexico and the United States. One thing to remember, though, the platform is a niche, so you'll find fewer profiles than you would on other sites like Dating.com.
Features
The majority of features on this site are for paying members, but the sign-up process is free. MexicanCupid lets members upload pictures straight from their Facebook page, making the process much quicker and more convenient. Other features include a banner on the site that shows the number of active visitors, active matchmaking, and classic communication services such as chatting and video calling.
Prices
Free users will be limited to searching and looking through profiles only. If you find someone you like, you can upgrade to a Gold or Platinum package. Once paid, you can communicate with other users or use advanced matching algorithms to narrow down your search results for potential dates.
Gold:
1 Month: $29.98
3 Months: $59.99
12 Months: $119.98
Platinum
1 Month: $34.99
3 Months: $69.98
12 Months: $149.99
Security and Support
Built on the Cupid Network, your information is safe, secure, and leak-proof. As of this writing, the Cupid Network has not reported any data breaches or information leaks.
As for support, you'll have access to an easy-to-search FAQ section that answers most questions. If you need further support, you can reach out to the customer support team through email, phone, or by filling out a contact request form. Most responses will occur between 9 am to 4 pm on business days.
Verdict
For a niche dating platform, MexicanCupid is one of the best Mexican dating sites. If you want to find a Mexican girlfriend, this is your new heaven! We cannot stress how easy this platform is to use, and you don't have to worry about fake profiles. So, go find your love today without spending a lot!
5. DominicanCupid – Best Dominican Dating Site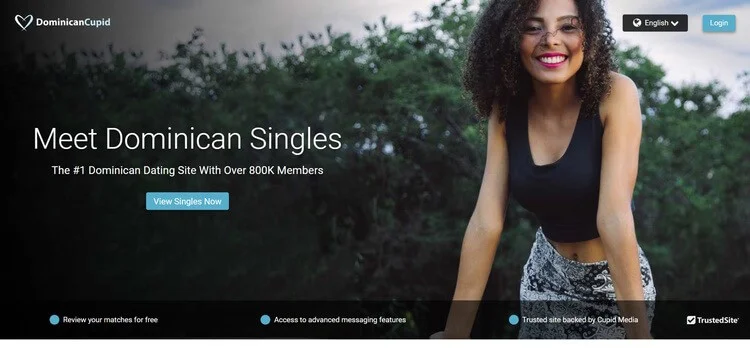 DominicanCupid is built specifically for finding a Dominican partner in Latin America and the Caribbean Islands.
Quality of Profiles
Being a niche platform, the search pool is much smaller. But that's better for you! First, you know that you are reaching a targeted group that's specific to your preferences. Secondly, you don't have to filter through as many fake profiles. The accounts are easy to browse, with high-quality images and descriptions to help you quickly find a Latin partner and a perfect date.
Features
To access profiles on DominicanCupid, you must first sign up with the best Dominican dating site. Signing up and creating a profile is free of charge. Creating the profile is made easier by a feature that lets you add photos straight from Facebook. A paid membership lets you add filters to get very specific about the people you want to date, to see who has viewed your profile and added you to their favorites, and much more.
Prices
As with all of the Cupid Network dating sites, you can sign up for free. The free package allows you to browse the profiles of all members. However, you cannot communicate with anyone until you pick a paid plan. One notable feature of DominicanCupid is the ability to try the website for one week before committing to a paid plan.
Gold:
1 month – $29.98
3 months – $59.99
1 year – $119.98
Platinum:
1 month – $34.99
3 months – $69.98
1 year – $149.99
Security and Support
Keeping your information safe is of the utmost importance. Using industry-standard protections, you can rest easy while browsing DominicanCupid.com.
As for support, you can find most of what you need in the FAQ section of the website. Still need a little more assistance? Reach out to the support team through a ticket system with wait times of less than twelve hours in most cases.
Verdict
DominicanCupid has high-quality, safe profiles for you to browse. While the database is limited in scope, the quality of the profiles quickly makes up for it. Combined with the low cost of using the platform, we are sure you'll find the Dominican girlfriend you've been looking for.
6. AmigosArdientes – Best Latin Dating Site for Hookups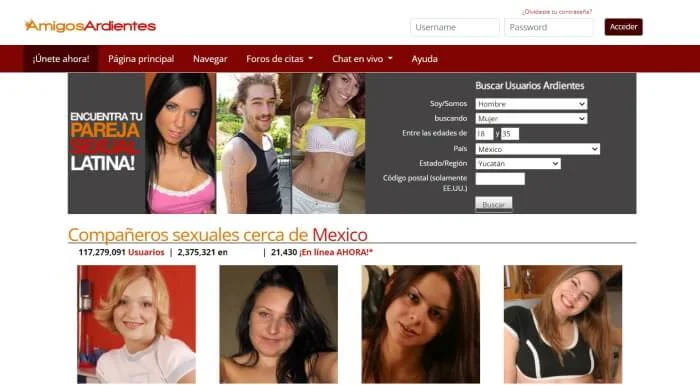 Even though it's technically a hookup website, AmigosArdientes is perfect for those looking for a Latin lover without all the normal "strings attached."
Quality of Profiles
Amigos Ardientes is a premium dating service platform with premium features. As such, you can expect to find only genuine profiles there.
The portal uses an advanced system to find fakes and remove them quickly. Plus, they have staff that manually reviews the profiles to ensure a quality experience for you. When registering on the site, the staff requires proof of identity, almost ensuring no fakes make it through.
Features
AmigosArdientes focuses on minimizing the frustration that often accompanies online dating. For example, the site offers translation services to make sure members can easily communicate.
It also shows who is active in your region, increasing the chances of finding a date. As with other dating profiles, AmigosArdientes offers most communication features through a paid membership. Membership levels vary so that everyone can pick the most suitable option for their personal needs.
Prices
You cannot use this website unless you pay for access. While this is normally a turn-off, we think this is a great idea. It keeps information safe and makes it more likely that you'll end up finding a real profile.
You can choose from a:
Gold Membership:
1 month costing $40.00,
3 months costing $81.00,
12 months costing $240.00.
You can enhance your plan with Standard Contacts, with costs being $20.00 for 1 month, $36.00 for 3 months, and $108.00 for 12 months.
Security and Support
Since the platform makes you register before you can even browse profiles, your information is safe. Even more, your images won't be leaked out to search platforms or "hookup" sites, making your use of the platform even more secure. All information is sent through SSL (an industry standard) and ensures even unsecured networks remain safe to use (think free wi-fi).
As for support, you'll be able to find most answers in the FAQ section of the website. Need a little more help? Simply reach out to them via email. Most responses occur in less than twelve hours.
Verdict
Find your next Latin hookup with AmigosArdientes.com. The portal does a great job of filtering out fake profiles and makes it easy to find a date in minutes.
7. Chispa – Best Latina Dating App
Chispa has become a hot spot for Latinos and Latinas looking for love. Even though it's a newer app, people can't stop talking about its cool features. What's it all about? Well, it aims to bring together Latino singles in the U.S., and it offers both free and premium plans.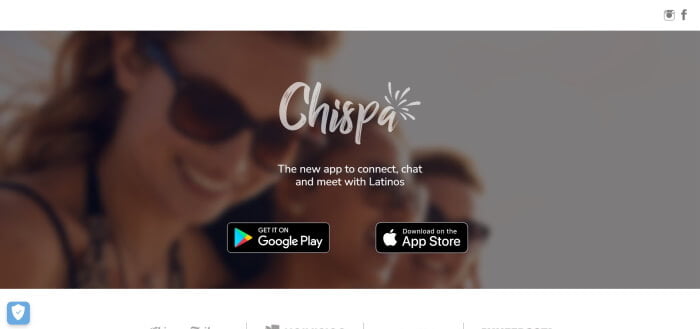 Quality of profiles
On Chispa, profiles are all about the visuals. Picture this: for every 10 parts of a profile, 9 are photos and just 1 is text. You can show off with up to six pics. But hey, don't let your guard down—some folks have said they've bumped into fake profiles. Remember to use a clear face pic, because first impressions are a big deal here.
Cool Features
Location, Location, Location: Chispa shows you singles who are nearby.
Swipe Right or Left: Just like Tinder, swipe right if you're interested, or left if they're not your type.
Game Time: Chispa is buddies with Tragos, a popular card game, to make the app even more fun.
Talk the Talk: You can use the app in English or Spanish.
Membership and Prices
Here's the scoop: you can swipe, chat, and make a profile for free. Want more? Premium perks like 'Boost' and 'Super Chispa' can up your dating game. And guess what? Prices kick off at just $0.49 a month.
Security and Support
Safety first, folks. Chispa checks you out through your phone number. And if someone's acting shady or posts weird pics, you can report them. One catch: once you block someone, there's no turning back.
The Good and the Bad
Pros
Designed for Latinos and Latinas
No cost for basic stuff
Easy to use
Cons
Not available everywhere
Some kinks still need working out
Verdict
Chispa is a solid choice for Latino singles who want real connections. This Latina dating app is simple to use and has some awesome extras. But keep in mind, it's still new. That means some stuff might not work perfectly, and it's not available in every place yet.

In a nutshell, if you're Latinas and looking for love that understands your culture, Chispa is definitely worth checking out!
8. Amigos.com – Your Best Option for Dating Latino Men
Amigos.com is a name many folks recognize when they're on the hunt for Latino dating. Been in the game since 1996 and linked with the Friend Finder Networks, this platform vows to help you find that special Latino in your life. But hang on a minute—let's dig into what this site has to offer.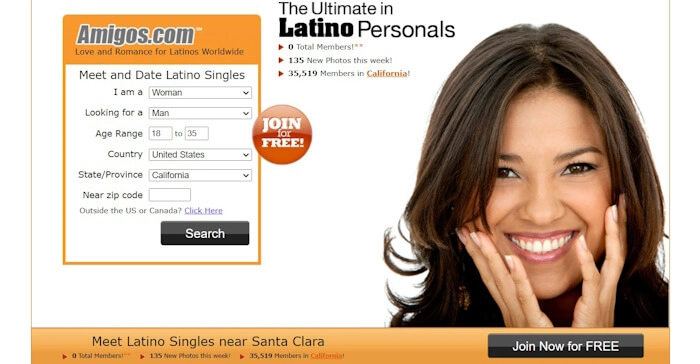 Profile Quality
Here's the tea: the profiles on Amigos.com are kinda plain. I mean, you won't really get a full picture of the person you're looking at. Why? Because the sign-up process doesn't ask for a lot of info. This means:
Weak Matching Algorithms: Don't expect love at first "algorithmic" sight.
Fake Profiles: Yep, they exist, and it's a red flag.
Feature Roundup
As for the features, you'll get some options. But, there's a catch if you're using a free account:
Cupid Preferences: Choose up to seven.
Match Viewing: See up to 10 matches.
Profile Peeks: Limited info, sadly.
Chat Rooms: Kinda ghost towns.
Video Greetings: Say "hola" with a video.
Also, they've got a "Hot or Not" game and a "Top Members/Top Fans" section. But, honestly, these don't really make the dating scene any better.
Prices and Membership
Two premium packages are on the table: Silver and Gold. Prices are between $9.99 and $34.99. But, be careful:
Payment Hiccups: Some banks said "no gracias" to the transactions. Not a good look.
Security and Support
Security's a bit sketchy here:
Shady Billing: People said they were charged even after saying "adios" to their memberships.
Bank Flags: If banks find it risky, you should too.
Pros and Cons
Pros
Quick sign-up.
Variety of chat tools.
Premium folks can talk to free members.
Cons
Free accounts? Limited.
Matching? Not smart.
Fake profiles? They're there.
Payment? Could be a hassle.
Verdict
Let's sum it up: Amigos.com falls short in a lot of areas. From limited free features and weak matching to questionable security, it just doesn't pack the punch. My advice? Check out alternatives like LatinAmericanCupid for a dating experience that's really worth your time.
9. LatinoPeopleMeet.com – Match Latino Hispanic Dating App
LatinoPeopleMeet is a popular online dating spot for Latin singles who want to find love that lasts. The brains behind this site are from People Media, which is now part of the Match.com group. If you're a Latino or Latina looking for a serious relationship, this platform might be what you've been searching for.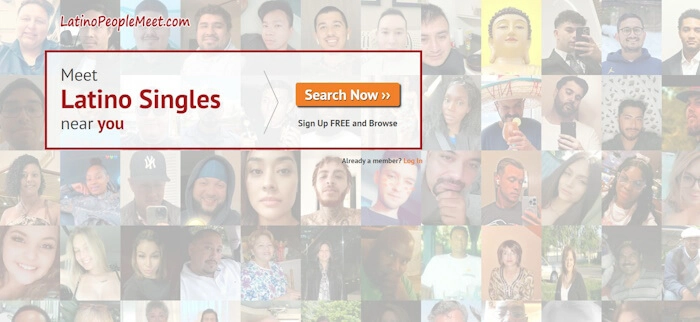 Quality Of Profiles
One of the first things you'll notice is there are over one million people on the site, mostly from the U.S. and Canada. It's a man-heavy scene with guys making up about 60% of the users. Most folks here want to find their soulmate, not just a date for Saturday night.
Bonus: This site welcomes everyone, LGBTQ+ included.
What you'll see in profiles:
Basic Info: Like age, interests, and location.
Self-Written Text: Where people talk about themselves.
Photos: Up to 30 pics can be uploaded.
Heads up: There are some fake profiles because the site doesn't double-check everyone's ID.
Features
LatinoPeopleMeet isn't short on cool stuff to do. Check out the main highlights:
Search Filters: Look for love by age, where they live, or their background.
Messaging: This is VIP only. You gotta pay to chat.
Flirts and Likes: All members can flirt and like pictures for free.
Instant Match: Find out who clicked 'I'm interested' on your profile.
Dating Tips: Get solid advice to boost your love life.
Memberships, Prices
Want more perks? Here's what it'll cost you:
1 Month: $16.99
3 Months: $8.99 per month (total $26.97)
6 Months: $6.49 per month (total $38.94)
Free stuff: Making an account, sending flirts, and basic search filters.
Paid stuff: Unlimited messaging and making your profile stand out.
Security and Support
Safety is a big deal for LatinoPeopleMeet. They follow the law and have all the legal stuff in place. But, keep your eyes open for fake profiles, as the site doesn't do background checks. You can always report or block users who bug you.
Pros and Cons
Pros:
👥 Huge Latino Community
💰 Budget-Friendly Premium Plans
📱 Works Great on Mobile Web
Cons:
🚫 No Mobile App
🌎 Only for U.S. and Canada
👤 Some Fake Profiles
Verdict
So, what's the final word on LatinoPeopleMeet? It's a solid choice if you're a Latin single who wants something serious. Lots of features and a big community make it interesting. But no mobile app and some fake profiles hold it back a bit. If a long-term Latin love is your goal, it's worth giving LatinoPeopleMeet, the Match Latino site, a shot.
10. AmoLatina – Premium Latina dating app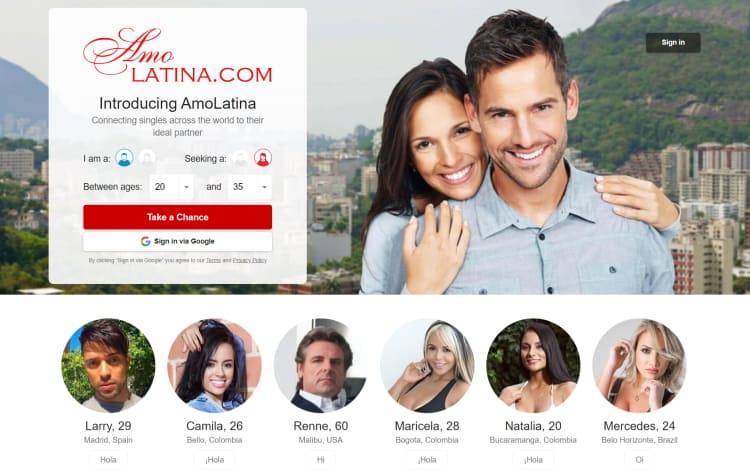 AmoLatina has been around since 1993 and is an online dating site for meeting Latin singles. Here, you can communicate with like-minded members who are looking for short-term and long-term relationships.
Quality of Profiles
The AmoLatina staff monitors and verifies all the profiles on their platform. By doing this, they are able to weed out fake profiles that are designed to scam you, waste your time, and direct you to unsafe links.
That is why AmoLatina is ranked the best Latin American dating site compared to everyone else. Sure, others have similar systems, but AmoLatina does it better!
Features
AmoLatina uses modern features that make online dating easy even while on the go. For example, AmoLatina has its own mobile app, which is available for both Android as well as iOS.
The availability of features on the site depends on which version of the site you use. The first version is free and the second one paid. The free membership, however, is quite limited. On the paid site, members can use features such as live messaging, video chatting, and sending gifts. Additionally, it is possible to use translation services which can become very handy for obvious reasons.
Prices
Signing up with AmoLatina is free. Once you are signed up, you can browse profiles until you find someone you want to connect with. From there, you will need to use credits to communicate. Credits can be purchased in packages of different sizes:
1000 $399.00 or .40 each
500 $249.00 or .50 each
320 $185.00 or .58 each
160 $96.00 or .60 each
80 $56.00 or .70 each
40 $30.00 or .75 each
20 $15.99 or .80 each
Security and Support
Amo Latina dating app uses proprietary anti-scam technology to weed out fake profiles and users. All profiles are scanned by staff to further protect its members by determining if a profile is real or fake. All actions on the site are regularly monitored to make sure scammers don't get to operate.
As for support, users can click on this link, where they can find answers to many questions. If they still have trouble, they can reach out to Live Support, where they can get help in real time. The portal also offers support through WhatsApp and Facebook Messenger.
Verdict
If you want to find a Latin lover, AmoLatina should be your first and last stop! With decent pricing, innovative features, real and verified profiles of Latino singles, and a proprietary anti-scam system in place, it's a solid option to try to date in South America.
11. Dating.com – Best International Dating Site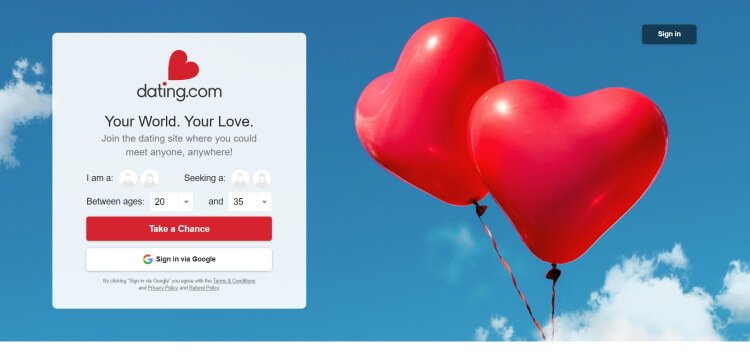 If you like throwing a wide net, Dating.com is the website for you. With plenty of profiles from Europe, Australia, the United States, and Canada, as well as members from South and Central America, you are bound to find someone to take on a date.
One of the most notable features Dating.com offers is the ability to "broadcast" with other users. And while we have ranked them third on our list, they are truly one to beat.
Quality of Profiles
Dating.com has a lot of active members, boasting over 73 million users worldwide, with many Latina women. For the most part, these are all active members, with a sprinkling of users who don't log on daily. Finding a date is not hard to do! The search system makes it easy to narrow down your list of potential dates in seconds. From there, you can choose how you want to interact with each of your matches.
Features
Dating.com allows members to view profile videos, enjoy two-way video calls, send messages online and offline, and like profiles and send winks.
As with several other sites, Dating.com uses the Let's Mingle feature – members can choose several people and simultaneously send them an introductory message. The message can include an invitation to call, message, or even video chat.
Additionally, Dating.com has a mobile app, but it costs a little extra. However, everyone gets a chance to test the site for free.
Prices
Just like AmoLatina, Dating.com offers credits together with monthly subscription costs. You have three credit packages to choose from:
Small (150 Credits): $49.99
Medium (600 Credits): $149.99
Large (1500 Credits): $299.99
Most features require credits (and they use quite a lot), so if you plan to be active, opt for the biggest credit package.
Security and Support
Dating.com utilities industry-standard safety protocols to keep your information safe. With no known data breaches, your data is secure with them.
As for support, the portal has an extensive FAQ section that should answer most of your questions. If you require further help, you can reach out to them through email or the WhatsApp messaging platform.
Verdict
Dating.com is an international online dating site with a massive database of Latin singles looking to connect. If you want to find a partner from Central America or other Latin countries, you'll enjoy some of the exciting features like broadcasting (live chat) that the platform offers. You can also use video calling options and make your chats more interesting with personal photos and videos.
Other Latin and Caribbean Dating Site Reviews
Are You Ready to Date Latina Singles?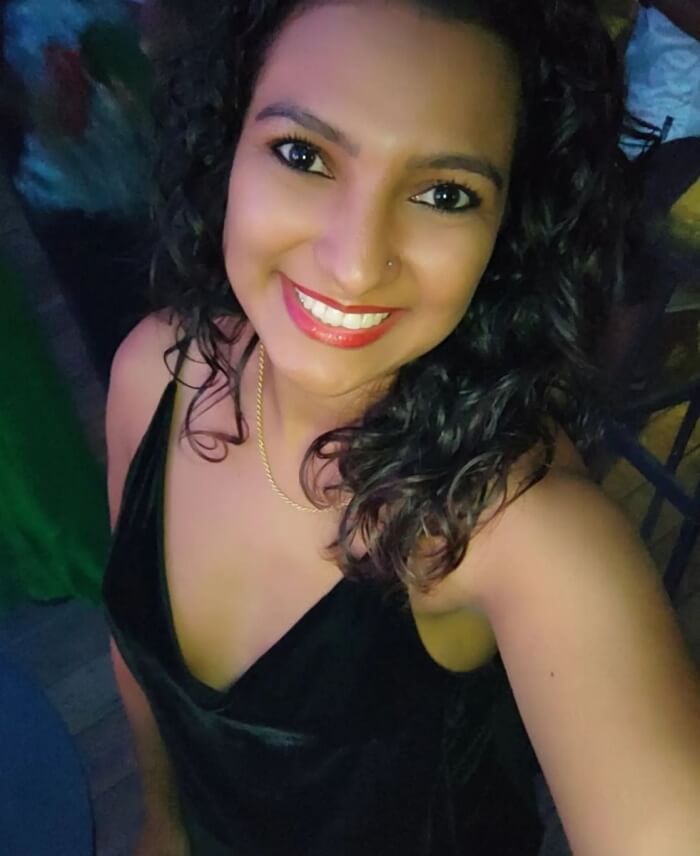 People from Latin America bring passion and excitement to the dating game. Dating a Latin woman or man will be an adventure that can take you all over the world with their diverse cultural backgrounds. Their qualities make them ideal for long-term relationships and marriage. Hispanic people are passionate and will put their heart into getting to know you better.
If you're ready to take on this challenge, then get out there and start your search for the perfect Latin partner!