What is AmoLatina?
Niche dating sites are becoming increasingly popular nowadays. People have learned to embrace their quirks and unique preferences and look for a way to meet like-minded people. The AmoLatina dating portal has been in the game for as long as other mainstream dating services.
AmoLatina was launched in 1993 as a form of mail-order bride service but has since grown to an international matchmaking giant with more than one hundred thousand users worldwide.
The service has also seen major changes to adapt to new approaches to connecting singles and features designed to make finding love and friendship much easier for the users.
This niche communications platform is designed to help singles all over the world find new connections in Central and South America.
AmoLatina.com has thousands of Latina members, although you'll find plenty of handsome gentlemen there as well.
Active members & relationship types

Amolatina has over one hundred thousand active members as of 2019, and as its popularity grows, so does this number.
The users come from all over the world and gain access to some of the most devastatingly gorgeous singles in 31 Latin American countries, including Colombia, Brazil, and even Argentina.
AmoLatina.com is a great site if you wish to date women from Rio, meet women from Barranquilla or find a wife in the Dominican Republic.
AmoLatina may not be the only niche site offering access to singles in Central and South America. However, it has one of the greatest pools of international singles to choose from.
Having been around for almost 30 years, it has become very popular in the region with more serious users than the scammers on newer Latina dating niche sites.
The people on this site know exactly what they are looking for, and they are rarely afraid to make it known. Most people here are looking exclusively for true love and building something long term.
However, platonic friendships, open relationships, and even simple flirting are relationship options to choose from. Users are just encouraged to be themselves and to be open about their intentions and expectations.
Main features
AmoLatina.com has come a long way from its 90s version. Today, it is designed with interfaces and special services that will rival some of the world's most prominent mainstream dating sites.
The best part is that all these services are specially tailored towards meeting the specific needs of international dating. That way, users get to experience true connections and even lasting love despite the distance and other barriers.
Here are some of the coolest services that make this possible:
Instant Chat and Video Chat
The first is the many communication options the platform offers. These include Online and Offline Chat messages, Video Chat, and emails.
With so many avenues to connect, you can truly get to know the people you are interested in!
It also makes the site self-sufficient, which means you get to take your time and only move on to exchanging main phone numbers and email addresses when you are ready.
Search and Filtering Options
You also have the filter option to look forward to. Hundreds of thousands of people are a lot to go through, even with all the time in the world. Eventually, you will grow tired of the monotony of swiping and reading profiles.
The filter option allows you to narrow down the search field by specifying your preferences, whether it is a certain age group or a specific country in the region. That way, you are more likely to match with someone who you consider your type.
Send a Gift
The gift delivery service is a unique feature of AmoLatina.com. Just pick an item from the list (for example, you can choose between flowers, chocolate, or perfume), and the company will arrange the delivery to your sweetheart.
It is an excellent way to tackle the hardship of international dating!
The signing up process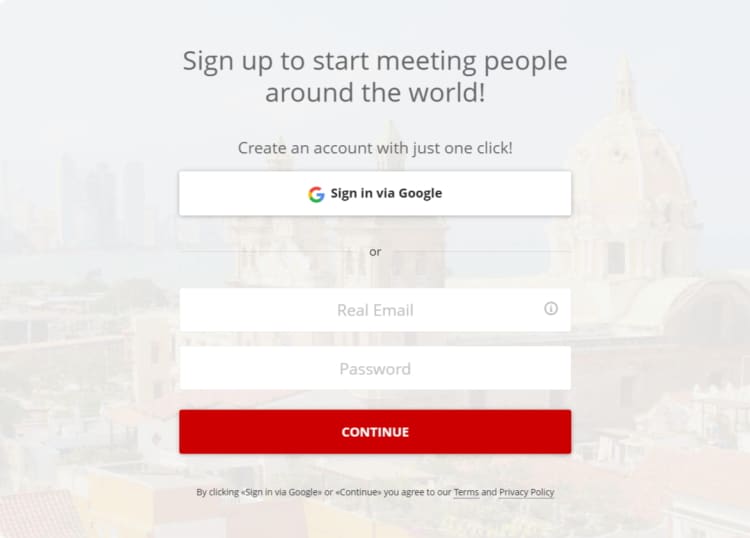 One of the best things about AmoLatina is how easy it is to join.
The first step is launching the website AmoLatina.com. The signup page is conveniently on the home page and is perfectly designed for smooth registration. All that is required from you are a few details, including your name, address, and email.
The best part the fact that signing up is free. You have to be ready to take that leap of faith.
Membership costs
To provide the best services and features to its users, AmoLatina charges some membership fees. Being a premium member allows you access to several features that will make it very easy to find matches and build strong and lasting connections.
Membership, in this case, is a little different from other sites. It uses special credits purchased with real money to offer access to services, including the different communication platforms and special services like gift delivery.
The price of the credits depends on the number that you intend to buy. If you buy as many as 1000 credits, it will cost you about 40 cents each. Fewer credits could cost about 80 cents each for the 20-credit package.
Here is a more specific breakdown of credit costs per batch.
1000 credits – $399.00 or .40 each
500 credits – $249.00 or .50 each
320 credits- $185.00 or .58 each
160 credits- $96.00 or .60 each
80 credits- $56.00 or .70 each
40 credits- $30.00 or .75 each
20 credits- $15.99 or .80 each
There is also a first-time premium membership charge of $9.99, which comes with 20 credits and freebies like ten chats and ten emails.
Free vs. paid version
Most services on AmoLatina require a subscription through the purchase of their credit units. However, you could take your time and enjoy the free version as you figure out whether or not it will work for you.
For example, you can open an account for free and browse profiles of other members as well. You can also send out a free introductory message.
Using the "Let's Mingle" service to send out a mass message to people who match your age criteria is free once every 24 hours.
However, you will not have access to some of the most important features, including different communication options.
However, with the new AmoLatina paid version, the investment is very much worth it as you get all the tools you need to make the long-distance connection work. That way, any relationship you start will run as smoothly as possible.
Safety and security policies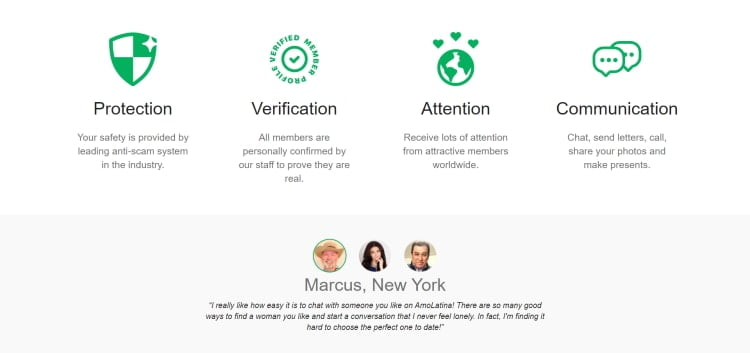 Niche dating sites covering Latin America get a bad rep for being nothing more than scam sites. That is not the case with AmoLatina. You can rest assured that your happiness and success in finding love is the brand's number one priority.
In addition to the wide pool of international users and the numerous convenient features, AmoLatina is also dedicated to ensuring their members' safety.
It is done by implementing strict security and verification policies that weed out and eliminate any disingenuous members for a safe space to find love.
In a nutshell
AmoLatina is easily the best site Latin dating site for finding love and making new friends in Latin America. It beats mainstream options in terms of regional popularity and numbers. That way, you are sure of higher chances of getting matches even in remote Latin American countries like Honduras, where mainstream sites may be unheard of.